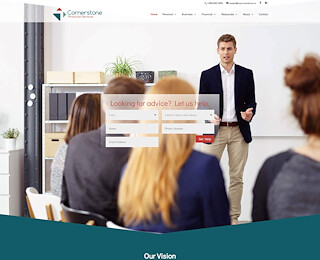 There are numerous Alberta insurance companies out there that provide mediocre services. At Cornerstone Financial Services, we go above and beyond the call of duty to ensure that you experience the best possible customer service. We have a long history of providing many different types of insurance benefits to families just like yours.
It is our goal to provide the best possible rates for insurance policies. From health insurance to disability insurance, there is nothing our team cannot accomplish. Don't settle for less than the best. Contact our team at Cornerstone Financial Services to learn more information about the various insurance benefits we can offer.
Term and Whole Life Insurance Benefits
Term life insurance is a policy that has a fixed rate for a limited term. Whole life insurance is a policy where a fixed rate is offered until the death of the policyholder. Whole life insurance policies can be borrowed against like a loan, which can come in handy during emergency situations. Term life insurance is strictly insurance. Premiums can fluctuate with term life insurance.
Whole life insurance can be considered as an investment. It does not matter if you are interested in whole or term life insurance. At Cornerstone Financial Services, we can guide you as to which policies will best suit your needs.
Disability Insurance
Disability insurance is one way to protect your income. Disability insurance works by providing you with income should you become ill or injured in a way that causes you not to be able to work. Short term and long term disability benefits are available. Having disability insurance can allow you to be still able to pay your bills even if you are unable to work. There are a lot of benefits associated with obtaining disability insurance.
Seeking Health Insurance
Many insurance companies in Alberta claim to offer the best benefits when it comes to health insurance. If you are seeking quality health insurance that you do not have to pay an arm and a leg for, get in contact with our professionals at Cornerstone Financial Services.
We can review your current health coverage and ensure that there are not any gaps in your coverage. Our health care benefits will make sure that you are not left burdened by a medical emergency. The health care benefits we offer at Cornerstone Financial Services are somewhat like group benefits that your entire family can enjoy.
Is Insurance Expensive in Alberta?
Insurance premiums can be pricey if you go to the wrong insurance companies in Alberta. However, at Cornerstone Financial Services, you can expect the lowest possible premiums no matter what type of insurance you need. We aim to provide affordable services to everyone. Not having insurance in an emergency can be a lot more expensive than monthly insurance premiums.
If you are looking for the best insurance rates, get in touch with our staff at Cornerstone Financial Services. We can provide you with a free insurance quote. Our team is waiting to serve your needs.
Alberta insurance companies
Cornerstone Financial Services Ltd.
7808005588
10712 100 St 103
Grande Prairie
AB
T8V 3X8
View Larger Map
We welcome your comments!